SSI SCUBA SKILL UPDATE
Forgotten Most of What You Learned?
If it's been a while since your last dive, or would otherwise like a refresher in skills, we recommend you do an SSI Scuba Skills Update course. This is a half-day programme, during which you refresh your knowledge on skills and basic dive theory, and then go for a dive or two with our instructor. Afterwards you're free to do as many fun dives as you want!
You can begin your studies for free by registering on the SSI web pages
Who can take this course?
Certified diver

If you clear the medical questionnaire with only "NO" answers, you can sign up. Please consult your physician if you get any "YES" answers before diving
Download the medical form
Kota Kinabalu
MYR 420.00 [min. 2]

MYR 470.00 [VIP]
Semporna
MYR 520.00 [min. 2]

MYR 570.00 [VIP]
​If you appreciate a personal touch and a possibility to learn at your own pace, the VIP is the choice for you.
Price Includes
2 dives

Equipment rental

SSI Dive Instructor

Online materials (Online access to the digital training materials lifetime)

Set lunch

Light refreshments on the island tea, coffee, water

Digital log book

Digital certification card

Island Entrance fees, Diving permit

Mares dive computer rental

Hotel pick up (roundtrip within town area)

Boat transfer (Shangri La to Mamutik Island)
Online training ~Diamond (Standard) access benefits
Lifetime Online & Offline access to the digital training materials

2-year access to the Digital Divelog on the DiveSSI app

Downloadable to 3 different devices

All-in-one solution for digital: dive courses, dive logs, certification cards

Scales to fit any device - IOS and Android

Offered in ALL major languages
Duration
. Save Earth . Less Paper . Digital Learning
Emergency Air Ascent
Emergency Air Ascent
Emergency Air Ascent
Emergency Air Ascent
Frequently asked questions
Is SSI dive certification is consider worldwide?
---
The World Recreational Scuba Training Council (WRSTC) is dedicated to the worldwide safety of the recreational diving public. As such, one of the WRSTC's primary goals is the development of worldwide minimum training standards. SSI is one of the WRSTC member.
---
Where can i rent a mask degree?
---
Yes! We had it, we charge at a minimum price at Rm30 per day. Just inform to our staff when you make booking.
---
What is dive computer?
---
Dive computer show to you about takes depth and time information and applies it to a decompression model to track the dissolved nitrogen in your body during a dive, also give you alert for the ascent rate. It's much more safer to use dive computer, we provide for each student during water training.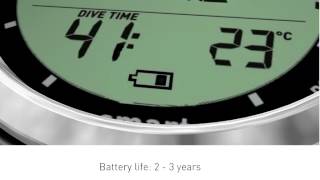 ---
Looking for English speaking or Chinese speaking dive instructor?
---
Yes, our SSI dive instructor able to speak English, Mandarin, Cantonese and Malay language. They are born in Sabah, Malaysia.
---
To refresh the dive skills, is it difficult?
---
Not different, SSI dive instructor shall do the performance skills during your training. Such as assembly & disassembly scuba unit, mask clearing, regulator clearing, neutral bouyancy, hovering and others which is you learned before. You shall redo these dive skills, it's shall makes more confidence before proceed to 2nd dives.
---
Is 3 dives just water training?
---
It's just conduct 1 dive for water training, 2nd and 3rd dives is fun dives. However, SSI Dive Instructor will monitor you during fun dives, just to improve your diving skils become better and better.
---
---